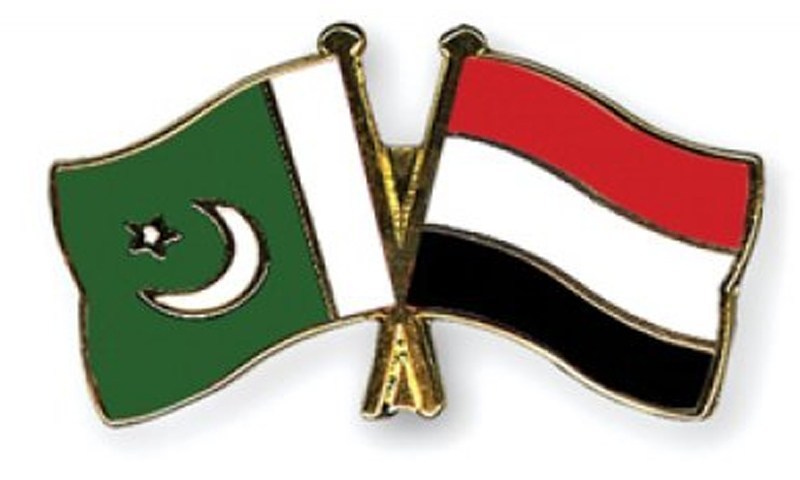 Yemeni-Pakistani relations are rooted to distant past history, due to the geographic proximity, political expansion of the old Yemeni state, and civilization overlap among people. The first Yemenis were within the Islamic Army, which conquest the land of Sindh in 712 AD/93 Hijriyah.
Both sides (South Yemen, and the Indian subcontinent which been divided later on) faced common conditions and stages across the British colonialism era of the two countries during the nineteenth and twentieth centuries, as well as the reciprocal population migration between Aden and Karachi, which led to greater closeness and cultural mixing between two countries.
The diplomatic relations between Yemen (previously the northern part) and the Islamic Republic of Pakistan (Pakistan) were established before September 26, 1962, when the Pakistani ambassador accredited to Egypt in 1955, he was a non-resident Plenipotentiary Minister to Yemen. In contract, the non-resident Plenipotentiary Minister of Yemen to the Hashemite Kingdom was also non-resident Plenipotentiary Minister to Pakistan.
But the two countries exchanged diplomatic representation at the Embassy level only in 1981, in Sana'a and Islamabad. Relations between Yemen and Pakistan grew in the 1970s, especially in the cultural/educational field, where Pakistan received hundreds of students for undergraduate university studies. In the same time, a Yemeni school for Primary, Matric and Higher Secondary School educations was established in Pakistan until 2001.
After the events of September 11, 2001, the two countries faced similar security challenges and circumstances, especially with regard to fighting terrorism, which imposed the necessities of security and political cooperation to face this scourge, adding a common factor that made it necessary to coordinate and reinforce harmony in the two countries' attitudes toward many issues of common concern. In addition, there is mutual support in nominations for various positions.
On the level of bilateral cooperation, the two countries have exchanged many visits during the past four decades, at various levels, most notably at the, parliamentary, prime minister, and presidency levels.  The two countries have signed many agreements, protocols and programs in the political, economic, commercial, cultural, scientific and other aspects. While the cultural and educational relations continued to grow, the circumstances of the two countries prevented the growth of economic and commercial relations as intended and expected.
Pakistan supports Yemen and its constitutional legitimate leadership, led by His Excellency President Abd Rabo Mansur Hadi, and the unity, security, stability and territorial integrity of Yemen.
At the people level of both countries, the two countries share the feelings of affection, Brotherhood and mutual sympathy with each other's issues, and share many of the high social values and Islamic customs.